Data Explorer is the basic window to perform filtering the phones available in cluster. The tree structure of Data Explorer allows you to filter the devices quickly and easily. By Default, it will provide the following filter options. But it provides the user flexibility to create their own filtering options.
The following filtering options exist in the Data Explorer.
CM Group
Device CSS
Monitoring CSS
Device Pool
Dial Plan
Firmware
Groups
ITL Status
Location
Manager
Models
MOS
Nodes
PC Port Span
PC Port cfg
Phone Load
Region
Security mode
Setting Access
SSH Enabled
Status
Subnets
Switches
SwitchesPortCfg
TFTP server
TVS status
Users
Video Capability
Web Access
To create the filter user just need to check the related check box to the filter option. I have checked the Registered options under status. Therefore, the screen view tab will only show the filtered phones.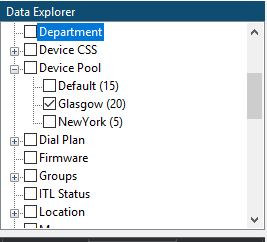 Note: [Ctrl+A to select all phones in the screen view or Ctrl+click to select individual phone]
See the following link for advanced filtering such as custom filter options
https://support.unifiedfx.com/hc/en-gb/articles/115001123211-Creating-Custom-Group-in-Phoneview